Bots are everywhere. You've likely encountered them so many times in your daily internet surfing or enquiring about any services like when you visit a website for a bank, credit card company, car sales website, or even a software business. Bots are all the rage these days. This is because they can answer your customers' online inquiries 24 X 7 whether the customer representative is offline or online. It can also automate your routine task anytime with more accuracy and efficiency. So, what is a Bot? A Bot is an essential software application powered by Artificial Intelligence that runs automated tasks to meet the customer's expectations and increasing demands, ease of operations, and cost-optimization across industries and businesses. Today's digitally empowered ecosystem is looking for a solution that exceeds the end user's expectations and reduces error. Gartner's recent study predicts 69% of routine work currently done by managers will be fully automated by 2024. According to Global Market Insights, the market size for chatbots worldwide would be over $1.3 billion by 2024.
The application maker and programmers worldwide are concerned about how to make it more user-friendly, cost-effective, intelligent, and secure. In today's data-filled environment, companies are running applications with multi-touchpoints and public and private data processing. These include the data collected from the customers as well as internal data of the companies. Data security is of topmost concern as users could very well be giving away private and personal information to an application that collects data. To avoid data breaches, a company must set up cumbersome security processes and respect them. In a nutshell, an essential question is: Can users trust this Bot? And it leads to another question about the data protection challenges.
Challenges: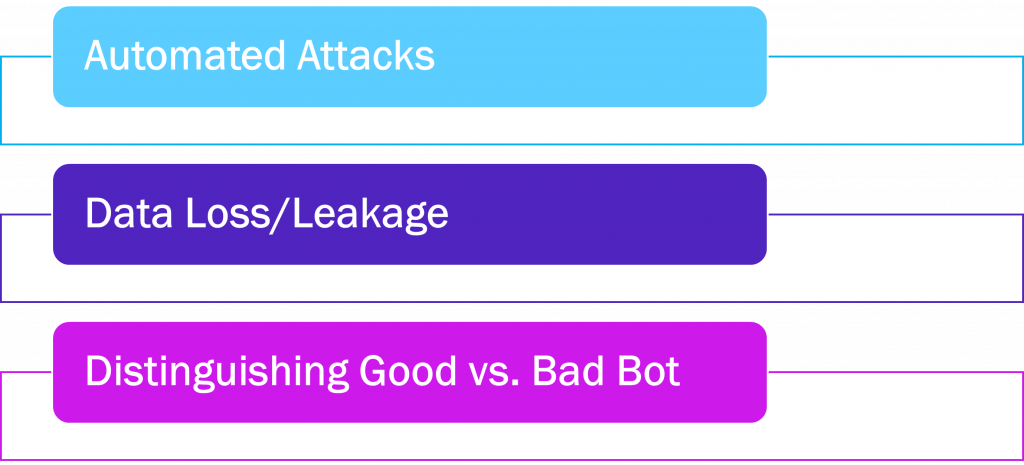 Automated Attacks:
Sophisticated automated attacks from Skewing, Expediting, Scraping, Credential Stuffing, and Brute Force are all prevalent today. Automation is a ubiquitous talking point throughout boardrooms. Equally, attackers have embraced automation to create new types of attacks to reach far and wide with minimal effort!
Data Loss/Leakage:
Web scraping is a common attack whereby BOTS scrape relevant information from a website. e.g., prices from an Airline, eCommerce, or Hotel website
BOTS can launch automated attacks

Fingerprint on application or server
Check the existence of a vulnerability in an application or backend infrastructure
Check the existence of the user account/id
Mass password resets

Download/Archive publicly available information on a website
Distinguishing Good vs. Bad Bot:
There are good BOTS like search engines, partner APIs, etc
Biz needs to allow these good BOTS for obvious reasons
There are bad BOTS that collect information on site, try credential stuffing, scrape information, purposefully skew business forecasting, etc.
It is difficult to identify and differentiate good vs. bad BOTS and restrict access only to good BOTS
After the implementation of the GDPR, the Data Protection Officer must take consideration mapping the data of your company, determining the following:
What types of data are collected? Which is personal data? Are these data-sensitive?
Does the Bot take the affirmation before collecting the data from the users?
Where are data stored? What are the security measures?
Who can access this data?
Once the data mapping has been accomplished, the Data Protection Officer will have to implement procedures to ensure data security. Security professionals understand where it is vulnerable and how we can best protect against exploitation. There are some security measures and preventive steps to ensure the security of the Bot application.
Layered/Structured Solution for BOT Protection:
Proactive Bot Defence
Bot Signature
IP Geolocation
IP Reputation
TPS-Based DOS Protection
L7 Behavioural Detection& Mitigation
URL Flow
Programmability
Conclusion:
Bots are here to stay. The future application is accomplishing the automated task with minimal error across diverse business functions and consumer-centric applications. We at Contata, are helping enterprises understand their business needs and implement intelligent and user-friendly Bots with security at the top of the mind.
To learn how you can secure the Bot application for robust security, contact us at sales@contata.com