Technology has become one of the core strengths of every business today. Staying up to date with the latest trends in the tech space is critical to ensure you have an edge over your competitors.
Although digital transformation is not something unheard of, with the advancements in technology, it makes much more sense to keep in mind its unmatched potential to create new opportunities for businesses.
Get started with your digital transformation.
After being severely hit by the pandemic, organizations are now embracing digital change at a much larger scale. It is crucial as it benefits businesses in several ways. Digitization allows you to avoid uncertainty, achieve efficiency in operations, ensure customer satisfaction, and most importantly—stay profitable.
According to Statista, global spending on digital transformation is expected to reach more than $3 trillion by 2026. Sectors such as healthcare and life sciences could see significant growth during this forecast period as they are more likely to invest in digital transformation technologies and services.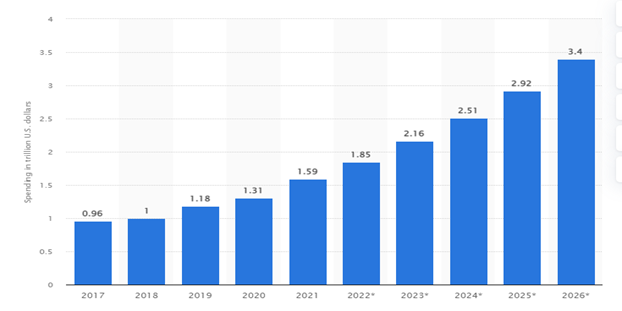 Gaps and inconsistencies in business processes can result in reduced speed and higher costs. It is vital that you identify these gaps and formalize business rules to guide your process workflows. If you are also considering digital transformation to add more value to your business, here are the top 5 trends to look for in 2023:
Customer Data Platform (CDP)
For businesses in the 21st century, customer data is of utmost importance, not just to improve their products and services, but to make informed strategic decisions. However, a vast amount of data, if not centralized, can lead to confusion. Customer Data Platform (CDP) is a tool that allows you to aggregate and organize customer data—collected through various sources—on a single centralized database. The data can later be segmented to create more personalized and engaging business marketing campaigns.
Everything as a Service (XaaS)
Cloud computing is instrumental in the digital transformation of businesses as it enables them to deploy powerful technologies such as Artificial Intelligence (AI), Big Data, Machine Learning (ML), and Augmented Reality (AR) into their systems.Amongst various cloud computing models like SaaS, PaaS, and IaaS, one model that has gained more prominence recently is XaaS, which essentially means Everything or Anything as a Service, the model focuses on providing all possible services and products that can be delivered over the cloud, enabling cost and time efficiencies.
Zero Trust Security
As businesses become more reliant on digital and cloud solutions for better productivity, the need for cybersecurity has also increased dramatically. Because of the diverse and complex nature of IT infrastructure, companies need better strategies and technologies to minimize cyber risks and prevent ubiquitous access to their applications and data. This is where Zero Trust Security kicks in. It takes cybersecurity to a whole new level, requiring everybody in the network, to be authorized and authenticated to get access to the systems. Zero Trust Security framework continuously monitors and validates that users and devices have the right permissions and attributes at all times.
Hyper-automation
Hyper-automation is a relatively new concept that leverages the power of AI, AR, and ML to automate business operations to a much greater extent. It also uses technologies such as robotic process automation (RPA) and low-code application platforms (LCAP) to quickly identify and automate as many IT and business processes as possible. In 2021, Gartner, a market insights platform, predicted that by 2024, businesses will be able to cut down on operational costs by as much as 30% by deploying hyper-automation technologies.
Have a look at this case study on Invoice Fee Management automation.
DataOps
Based on the concept of development and operations (DevOps), DataOps is a holistic approach to data delivery, designing and management that focuses on speeding up innovation and experimentation with minimal errors. It brings Agile Development into data analytics to ensure data teams and users can collaborate more effectively and efficiently. Because the quality of data is very high, it allows for better monitoring and measurement across a complex array of people, technology and processes. As the volume of data continues to grow exponentially, the implementation of a DataOps strategy has become more critical than ever.
Application Development: Your First Step Towards Digital Transformation
In today's highly competitive digital marketing space, just having your online presence in the form of a website or social media is simply not enough. You must have a dedicated app as it can help you reach a wider audience and ensure better customer engagement.
Depending on the industry you cater to, you might want to go for a web or mobile app for your business, however, mobile apps are growing in popularity. The reason is the increasing use of smart devices such as mobile phones and tablets to access the internet.
On the one hand, where the demand for desktops and laptops is declining, the number of mobile internet users is growing at a fast rate. According to Statista, the number of unique mobile internet users reached 5 billion in 2022, which is more than 60% of the global internet population. As mobile technologies become more available and affordable, this number is expected to keep growing in the future as well.
Now, when it comes to apps, there is no "one-size-fits-all" solution. Because every business is different, you need an app that best fits your requirement. With advanced technologies like AI, AR, and ML, mobile apps have become way more sophisticated and efficient than ever.
Also, you might want to develop a different app for a different task instead of just integrating it into your business app as an extended feature. For example, you might want an app to digitize physical documents or automate an internal business process.
Digitize Your Business Processes & Automate Workflow Management
A business consists of several processes, from product development to accounting, employee management, etc. Most of these processes, especially those which are repetitive in nature, can be automated and streamlined to ensure more efficiency and transparency.
Digitizing your business processes, whether fully or partially, can be a cumbersome task, but it's definitely worth it if you want to stay competitive or get an edge over others. It basically means applying the same principles of real-life processes to a software for online business operations. Everything gets documented on a cloud-based platform for instant access.
Now, why is there a need to digitize processes? Manual handling is subject to human errors and can hamper productivity, especially if the task is complex in nature. Also, scaling down on your workforce is not what you aim for. Digitizing manual tasks allows you to improve turnaround times and cut down on labor costs. In some cases, you might even be able to save up to 30% in operational expenses.
Whether you are a construction company, oil and natural gas producer, or a company doing business in the healthcare sector, the overall workflow can be managed using advanced software that allows for real-time data collection and processing.
Critical data can be collected across several processes for analysis and company insights, enabling strategic decision-making. Relying on emails or verbal communication to get things done? Replace it with a smart tool that can intelligently move information to the right agents in a time-effective fashion. Know how you can automate workflow management.
Conclusion
Digital transformation is for virtually every business irrespective of their industry. The advantages are multifold, from achieving agility to cost efficiency and compliance. Nonetheless, the integration of various complex business processes into a single, consolidated system can be a big challenge.
At Contata, we can be your strategic partner to help you achieve your goal of digital transformation while also safeguarding your critical data. With us, you can stay confident that your data is protected at all levels as it moves to the new systems.
We have a highly skilled and experienced team of in-house product engineers who have the expertise to provide you with the best possible solution to your problems in all phases of your product development. We provide you with a clear roadmap to redesign your business processes and enable data-driven decision-making based on Machine Learning and AI.
Get in touch or write to sales@contata.com with one of our experts today to know what Contata has to offer in the digital transformation of your business.