With innovations in technology, Big Data analytics have become way more advanced, sophisticated, and valuable than ever. Because companies generate a large amount of data daily, they have started to harness the power of real-time analytics to improve decision-making and achieve operational efficiency. In supply chain management, real-time data analytics aims to provide businesses with quick insights into how the inventory is moving at different levels to minimize gaps between demand and supply.
Stats suggest that more and more companies are now taking advantage of real-time analytics to optimize supply chain operations and save costs. According to a report by Allied Market Research, the global supply chain analytics market size stood at $4.53 billion in 2019 and is expected to grow at a CAGR of 17.9% from 2020 to 2027, reaching $16.82 billion by 2027.
What is Real-Time Analytics?
Real-time analytics refers to the process of monitoring and processing data as soon as it enters the company's system or database. It allows businesses to react quickly to changes in data at various levels so that potential issues can be addressed, or new opportunities can be identified. Real-time analytics is the counterpart of batch analytics where the latency is high, and data takes a significant amount of time to get processed.
Analytics at Different Levels of Supply Chain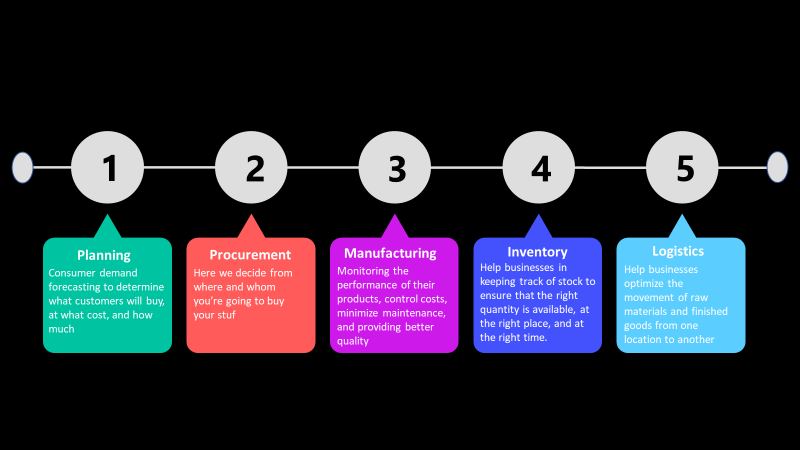 Planning
Planning is the very first step in the supply chain where analytics and machine learning techniques can be applied for consumer demand forecasting to determine what customers will buy, at what cost, and how much. Demand forecasting uses historical data, current performance, and past trends to predict possible future outcomes. Based on the forecast, production can be increased or decreased.
Procurement
After planning, the next step in the supply chain is procurement where you decide from where and whom you're going to buy your stuff. Analytics can help in assessing different suppliers—both existing and potential—and comparing them based on various factors including price, KPIs, delivery times, and other metrics.
Manufacturing
Manufacturing analytics can help businesses monitor their products' performance, control costs, minimize maintenance, and provide better quality. Companies can leverage tools and techniques, such as Power BI, BOM analysis, CBA analysis, and data mining to optimize manufacturing.
Inventory
Analytics in inventory management can help businesses in keeping track of stock to ensure that the right quantity is available, at the right place, and at the right time. By analyzing current demand and inventory in stock, companies can figure out which items require more space. Also, it allows them to identify channels that can manage more stock, figure out what is more likely to sell quickly, and better utilize their resources.
Logistics
Analytics in logistics can help businesses optimize the movement of raw materials and finished goods from one location to another. They can get real-time updates on drivers, identify better routes, and adapt to weather changes quickly. The goal is to ensure safe and timely deliveries with minimum downtime, which is often caused by driver unavailability, bad weather, accidents, etc.
Supply Chain Bottlenecks: Challenges Faced by Companies
Supply chain bottlenecks are problems that affect several aspects of the supply chain including procurement of goods, storage, and logistics. These consist of but are not limited to:
Lack of Visibility
According to a study by McKinsey, only 2% of organizations in the world are able to gain visibility into their supply chain beyond the second tier, hampering decision-making. This lack of visibility is often caused by data silos, which are repositories that contain data incompatible with other datasets. Putting together and analyzing data scattered across various legacy systems and spreadsheets can be a big challenge.
Inventory Tracking
In the global supply chain, the inventory is spread across many separate locations, making its tracking difficult and complex. However, knowing what inventory you have and where, is critical to ensure you have enough stock available for order fulfillment. Inventory tracking is also necessary to avoid overstocking as it can increase warehouse expenses.
Unexpected Shipment Delays
Although supply chain logistics have greatly evolved over the last few decades, disruptions can always cause unexpected delays in shipment. Other factors such as port congestion, strikes, trade wars, and inclement weather conditions are also responsible for delays. Not being able to ship orders on time can hamper customer experience.
Cost Management
Because global supply chains involve large distances and many steps, from procurement to shipment, inconsistencies at any step, such as poorly managed logistics or worker shortage at a distribution center, can lead to increased costs. Keeping the cost in check is critical to ensure better profitability and ROI.
How Real-Time Analytics Helps in Overcoming Supply Chain Bottlenecks
Data Visualization
Regular data charts can only help you have a look at your historical data with no scope for customization. However, with real-time analytics, you can use data visualizations to track changes as they happen with the help of user-friendly and interactive dashboards. The reports on the dashboards are always up to date and can be easily shared with all stakeholders, enabling quick decision-making.
Inventory Handling
With real-time analytics, businesses can better track their inventories (SKUs)—spread across various locations—in real-time and get an accurate view of their stock to ensure fulfillment of customer orders. It also allows them to minimize stockouts, cut down spending on warehouse management, and reduce shipment turnaround times.
Minimizing Shipment Delays
By leveraging technologies like artificial intelligence (AI) and machine learning (ML), real-time analytics can help businesses identify operations that consume a lot of time, and evaluate areas where human errors are more frequent, to minimize shipment delays.
Cost Optimization
Real-time analytics enables businesses to quickly adapt to or/and make necessary changes to fix inconsistencies at every step of the supply chain, reducing costs and maximizing profitability. A variety of tools can also be used to track key performance indicators (KPIs) to monitor performance metrics and boost ROI.
How Contata Can Help Businesses with Real-time Analytics Solutions
With over two decades of experience in data science and engineering, Contata enables businesses to unleash the true potential of their data with top-notch analytics solutions.
By deploying technologies, such as machine learning, artificial intelligence, and NLP, in combination with business intelligence tools, such as Power BI, we help companies get a 360-degree view of their organization in real-time. We also use data modeling and predictive analytics techniques to forecast future outcomes based on historical data to help our customers stay one step ahead of the competition.
We develop custom data management solutions that allow you to continuously ingest data from your various legacy and modern sources, so you can feed data directly to your business intelligence tools as it gets collected.
Conclusion
The key to ensuring efficiency in the supply chain is to follow a proactive approach rather than taking action when something has gone wrong. With real-time analytics, you can visualize data reports quickly and make decisions faster. Real-time analytics allow you to better understand shipping trends, optimize costs by avoiding inadequate routes in transportation, stay up to date with your inventory no matter where it is, and efficiently manage warehouse operations.